Profile
Company Name

MAEDA SEISAKUSHO CO., LTD.
Capital

JPY 3,160,000,000
Established

1962
Head Office

1095, Onbegawa, Shinonoi,Nagano-City, Nagano-Pref.
388-8522 Japan
President & Representative Director

Masaaki Shioiri
Employees

536 people
About Maeda Seisakusho
Established in 1962 Maeda Seisakusho Co., Ltd. has been manufacturing and offering after sales service and the rental of construction equipment, industrial machinery and steel structural products.
Up until today we have been focused in the area of developing social infrastructure by mechanisation, labour saving and improving the safety in the civil engineering and construction industries with an ethos of craftsmanship and manufacturing excellence.
The Maeda mini crawler cranes developed, manufactured and sold by our Industrial Machinery Division has now become a product used globally throughout the world.
In Japan our mini cranes are known as " Kani cranes ( crab cranes )" and are very popular with children since its becoming a toy in die cast mini car series.
Alongside our range of Mini Cranes we also manufacture antifreeze sprinkler machinery, crawler wagons and also larger machinery such as tunnel construction dumper trucks and shielding machines.
Our Construction Machinery Division is a master distributor for Komatsu products in central Japan and has been providing sales and after sales service and rental for many years.
In 1984 we won the prestigious Quality Control prize from Komatsu and we have attended the Komatsu technical skills competition annually and winning awards by making continuous efforts to improve our knowledge and expertise.
Our R&D Division develops new products and creates added value to our custom-made products as well as our existing product lines. We meet the diversifying needs of our customers with technology and development skills that have been accumulated over many years.
Aforesaid are the main businesses of Maeda Seisakusho Ltd.
In the Maeda group we have subsidiary companies manufacturing hydraulic cylinders for mini crawler cranes, sales and rental of nursing care equipment, and a car brand dealership.
These businesses benefit each other individually and as a collective as the Maeda group.

Corporate Motto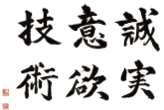 "Sincerity"
As long as business is kept ongoing, a company has to profit from it. Provided, however, that if it merely takes account of making profit regardless of the circumstances, the business may not last long. Only where a company conducts itself sincerely and keeps a genuine rapport with its clients, will its business last and develop. "Sincerity" is a pillar in carrying on business.
"Willpower"
Being at work which is challenging, one has to fight with his very self. Without selfconfidence, whereby one believes he shall in no event lose to anyone else in terms of technology, price and construction period, and without "Willpower" whereby one whips himself into overcoming challenges, no one can proceed with works. In essence, "ownership" does mean a lot to one's working. "Willpower" is a resource that nourishes morale that is indispensable to one's work as well as one's life.
"Technology"
Maeda is a firm that sells its "Technology." It is Maeda's constant desire to deliver a work product which, with just a glance at its workmanship, can easily be identified as one completed by Maeda. It is the "Technology" that competitors like to borrow from Maeda, rather than that which Maeda tends to borrow from them, which gives Maeda an edge on them.
History
1960

Facility established as Maeda Corporation, Shinonoi Machinery Factory.
1962

Taking over all facility of Maeda Corporation Shinonoi Machinery Factory, Maeda Seisakusho Co., Ltd. was established as subsidiary.
1963

Appointed as Komatsu service factory
1967

Agreed entrustment of sales and after-sale service for Komatsu product.
Tokyo sales branch was opened.
1968

Introduction of Maeda truck mount crane.
1971

Nagano factory opened in Nagano city
1980

Tokyo factory opened in Saitama.
Spider crane was introduced.
1984

Komatsu Quality Control Award
1987

Ford Maeda Co., Ltd was established.
1990

Appointed as sole distributor of Komatsu product for Nagano and Yamanashi prefecture.
Head office building was completed.
1991

Subsidiary cylinder production company Neox Co., Ltd was established.
1992

Maeda Rental Co., Ltd was established.
1994

Awarded of Deming Application Prize
1995

ISO 9001 Approved
1996

Rental 21 Co., Ltd was established by merger of Rental Aichi Co., Ltd and Maeda Rental Co., Ltd.
1998

First export of spider crane to overseas.
2000

ISO14001 Approved
2001

Land and facility of Tokyo factory was assigned to Toyo Ink Co., Ltd.
2004

Listed on the JASDAQ Stock Exchange
2005

Joint venture company, Sun Network Chubu Co., Ltd. was established. Welfare equipment rental and sales business.
2008

Sun Network Maeda Co., Ltd. was established. (subsidiary company) Taken over a part of territory from Sun Network Chubu Co., Ltd for rental and sales of nursing care products.